As we move into Fall in the northern hemisphere, it's time to unpack the thermals and get out your winter gear.
There's recently been some buzz surrounding synthetic insulated jackets, such as the Patagonia Nano-Air Hoodie or the Arc'tyrex Atom, Arc'tyrex Proton LT and whether these are a suitable replacement for winter down or fleece jackets and parkas.
We explore the different types of winter jackets, to help you find the best winter jacket for extreme cold.
Synthetic vs Down Jackets
The biggest difference we can see between synthetic insulated jackets and down jackets is the engineering. As technology improves, lighter synthetic jackets are becoming more popular than down jackets especially when wearing for physical activity.
For activities such as hiking, trekking, snow boarding or any aerobic activity, a synthetic insulated jacket is more likely to breathe. This means you're less likely to overheat when wearing. Synthetic insulation can also be treated for water and odor resistance for improved performance in outdoor settings and activities.
Synthetic insulation is rated in grams per meter squared (g/m). For example, a synthetic jacket that is 80g/m weighs 80 grams for every 1 meter by 1 meter piece of fabric.
Down is a byproduct of ducks, geese or other waterfowl usually in the food raising process. Whilst down has always been considered the best insulator for warmth, moisture is its big weakness. When down gets wet it clumps together. This causes it to lose its ability to trap body heat and can be slow to dry. Moisture can affect down from both the inside and outside of the jacket – inside from sweat, outside from rain or snow etc.
Down is rated by a fill power system. It is measured in cubic inches based on the volume it occupies, which is converted to the fill system number. Down jackets typically range from 450 – 900 in terms of fill power. In short, the higher the number the more efficient the insulation (the warmer you'll be) and the better quality the down.
With improvements in technology, down is now becoming a more versatile product for damp or humid conditions. By treating the individual feathers with a nanomolecular coating (also known as a hydrophobic coating) this creates a water resistant down. The coating allows the feather to resist moisture without adding any additional weight to the feather or affecting its ability to loft.
Fleece Lined Jackets
Fleece, when combined with other fabrics, can provide effective protection against the cold and wind. The main disadvantage with fleece is it doesn't compress down well, and won't flatten and fluff back up like a down or synthetic jacket will.
Fleece comes in various weights and is a popular choice for any outdoor activity where you don't need to pack it down, or when you're looking to purchase a winter jacket at a minimal cost. Fleece can also be washed easily. Check out this 5 star rated waterproof fleece jacket on Amazon:
Best Jacket for Hunting
If you're a hunting or ice fishing enthusiast you might also like this waterproof, windproof, insulated parka from Wildfowler. Their camouflage range will have you blending in so well with the environment, your hunting crew might not even see you!
Synthetic Insulated Jackets
Arc'teryx Proton LT
Jackets such as the Arc'teryx Proton LT is a great choice as a lightweight athletic jacket for cold weather conditions. It's water resistant, wind resistant, lets the air permeate through whilst maintaining warmth and it's moisture wicking properties. Best for weather conditions down to 30 degrees Fahrenheit with minimal layering required.
Materials:
Coreloft Compact 80 (jacket) – 100% polyester
Coreloft Compact 60 (hood)- 100% polyester
Dope Permeair 20 – 100% nylon
Fortius Air 20 – 84% nylon, 16% elastane
Check out the Arc'teryx Proton LT on Amazon below.
Synthetic & Down Combo Jackets
Arc'Teryx Thorium AR Jacket (Men's)
Constructed with a down composite, with strategically placed synthetic insulation in areas where moisture may build up and down in areas for maximum warmth. Could this be the best of both worlds?
Insulation is 80 g/m and 140 g/m Coreloft™ synthetic insulation. This highly crimped multi-denier siliconized polyester yarn is lightweight, breathable, and thermally efficient. It is very compressible and has excellent loft retention.
European grey goose down, fill rating 750. This is an excellent fill rating for warmth and quality.
Available in Sizes Small to 2XL and 4 colours. Click on the link below to view this jacket on Amazon.com:
Down Feather Jacket
Eddie Bauer EverTherm Down Jacket
Revolutionary new Thindown fabric replaces traditional, high-loft down clusters with ultra thin down sheets, eliminating the need for quilting or channels. It also creates maximum thermal efficiency without bulk and, since the down is uniform throughout, there are no cold spots. You get all warmth, no puff, in a simple, streamlined design that delivers superior technical performance. Moderate Activity Rating: -15°F.
Eddie Bauer Superior 2.0 Down Jacket
A classic down jacket filled with 650 fill premium down insulation. The nylon shell is waterproof and even the hood includes insulation. If you're not a fan of fur, albeit faux fur, it is removable from the hood. This down jacket is built for performance and comfort when the weather is at its worst. Interior, rib-knit storm cuffs seal out the cold.
Best Packable Down Jacket
Ultralight and packable, this down jacket is a consummate traveler, whether your destination is cross town or far off the beaten path. Nylon shell with 650 fill Premium Down insulation for superior warmth that easily compresses into the included pouch for storage.
Best Winter Coats for Women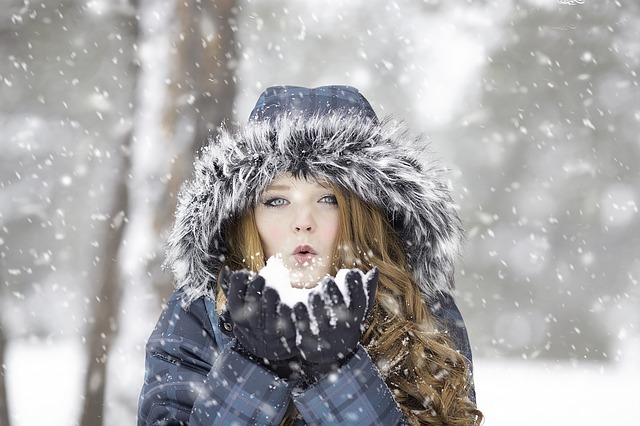 Triple FAT Goose Down Jacket
If it doesn't bother you to wear coyote fur, the Triple FAT Goose Down Jacket has to be our #1 choice for extreme cold weather wear. This arctic parka has 675 fill power premium white goose down for the ultimate warmth in extreme climates.
The outer shell is coated with a patented hydrophobic nanotech coating to bead off water and oil. The downside? The price. Check it out below:
Fleece and Down Combo Jacket
Eddie Bauer Lodge Down Duffle Coat
Make no mistake, this is a long coat and if you're on the shorter side (say 5'3″) it's more likely to sit mid calf than at the knee. Having said that, it's rated well below 0 degrees Fahrenheit and with a combination of fleece and down it will keep you toasty warm in the harshest of conditions. It's also far more cost effective than the Triple FAT Goose Down Jacket mentioned above.
---